KOMPAS.com - Human Initiative received an award in The Best CSR category from the Indonesian Fundraising Award (IFA) 2020.
The award was accepted during the virtual awarding ceremony on Thursday (9/7/2020)
IFA 2020 is an awarding ceremony organized by the Institute of Fundraising Indonesia (IFI) to give appreciations towards humanitarian social institutions and individuals involved in humanitarian fundraisings.
Director of IFI Arilina F Saliman said that IFA was created to encourage and motivate social institutions in fundraising and humanity.
"IFA is one of the success indicators of institutions on achieving fundraising growth each year," Arilina said in a written statement received by Kompas.com.
The institutions and individuals who received this award were selected through a judging process by the Director of National Islamic Finance Committee (KNKS) Ahmad Juwaini, Executive Director of Zakat Forum (FOZ) Agus Budiyanto, and Arlina herself.
After the process, Human Initiative was announced to be one of the awardees.
President of Human Initiative Tomy Hendrajati said the award is dedicated to all partners who put their trust in his institution to manage their charity.
"Thank you IFI for this award. We dedicate this award to our partners, who have been entrusting their humanitarian fund management to Human Initiative. Moving forward with this award, Human Initiative is making the commitment to becoming a partner that can serve the community better," Tomy said.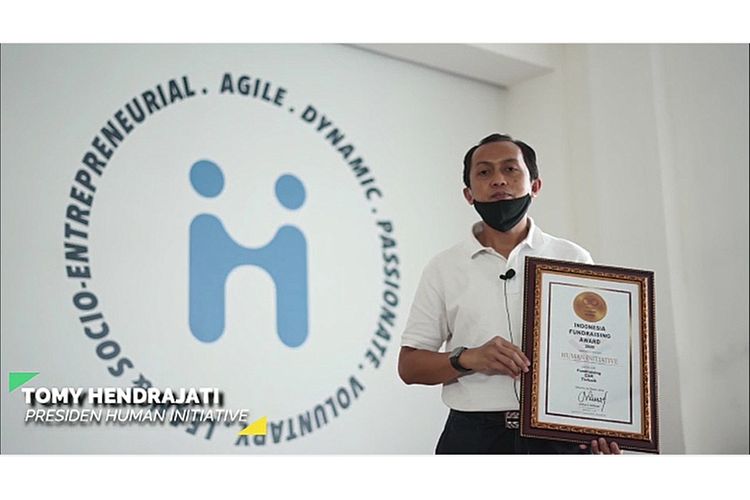 President of Human Initiative Tomy Hendrajati
According to Tomy, Human Initiative is constantly trying to improve and adapt to the present situations and conditions.
"The award is making us work harder to keep on improving. It's also preparing us further to strengthening our collaboration with the partners," Tomy said.
Human Initiative is a management institution focused on humanitarian programs. Previously, Human Initiative managed the aid for the 1999's horizontal conflict in Maluku as well as the 2004's tsunami disaster in Aceh.